~ COME AND GET NUTTY ~
Slow Ride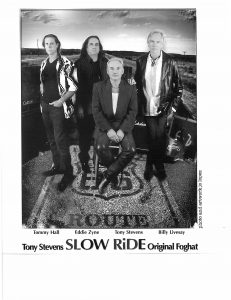 Tony Stevens first came to prominence when he joined the Savoy Brown Blues Band in 1968. After 5 major tours and a couple of dues paying years, he and most of the band left to stay true to their blues roots and formed mufti-platinum blues rock band Foghat.
After leaving Foghat in the late 1970's Tony recorded and performed with a virtual who's who in rock history. He has also worked on several hit TV and film projects including the soundtrack for The Who's "Tommy" and "Evita" Tony decided to delve into acting when he got a part in "Rock Follies", a hit Engish TV show . He enjoyed two years in the show after which he formed the band "Nobody's Business".
They recorded an LP in Nice, France, which was released in Japan. The band went to Ibiza, Spain in 1977 to play the opening of a new venue. Tony fell in love with the island and still lives there to this day.
After "Nobody's Business" Tony formed a band with Scottish blues singer Maggie Bell named "Midnight Flyer", managed by Peter Grant (Led Zeppelin's manager). The band recorded an album at Ringo Starr's studio (John Lennon's old house) which was produced by Mick Ralphs of Bad Company. The band toured Europe with Bob Seger and then toured Europe and the U.S. with AC/DC.
In 1984, Tony was asked to join Roger Chapman, the former lead singer with "Family" and a major force in Europe. They played together for nearly four years at major festivals in Western Europe and the Eastern block countries.
After Roger Chapman, Tony returned to acting, enrolled in acting school and signed with an agent. He landed small parts in major soaps in the UK such as "The Bill" and "East Enders".
5 Guys Named Moe
Enjoy Longview's best karaoke at the 2nd annual Squirrel Fest Karaoke Contest. Feel like you got the chops to take the crown? Call one of the sponsors and audition for a spot in the finals. They will be able to tell when they are doing the preliminary events. You might even have time to kick back and buy a drink and some tasty food.
Wet your whistle while you enjoy the show. We will have an outstanding beer selection again this year located right next to the main stage so you won't miss a single song.