ENJOY THE FUN!
August 17th, 2019
Squirrel Bridge Map and More!
New this year we have an interactive map of the Squirrel Bridges and the Squirrel Fest venue. Find what you are looking for quickly. Also you can find other squirrelly information and videos. Great for viewing on your phone!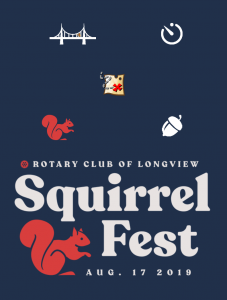 Something For Everyone
Each year is better than the last with great shows, entertainers, and bands that you'll just go NUTS about. The Civic Circle is transformed into an all day venue of music, fun, and games for the whole family. All the great support from our awesome sponsors makes this a free event for all who attended and also allows us to discount the concert ticket prices. Tickets will be available for purchase at the event as well as through Squirrel Fest volunteers.
FOOD, EVENTS AND GIANT SQUIRRELS
Things to do for all ages
A wide range of vendors and entertainment will be present to make the day as fun and active, or relaxing as you would want it.
Become a Sponsor
The generous contributions of our local, and not so local, merchants, vendors and patrons make Squirrel Fest a fun event for all. We could not offer the great activities and events without your support.
Become a Nut Today
Vendor Signups are Open
To our nutty friends, vendors and squirrel lovers, it is that time of the year again that we plan for this year's Longview Squirrel Fest. We want to thank our vendors who participated at last year's fest, it was a great success! We had over 50 vendors that attended the event. With all the great support we are receiving from our awesome sponsors, we continue to be able to keep costs down and make this a successful event for all who attended. We expect this year's 9TH Annual Squirrel Fest to be a bigger and even a more fun experience for our community.
This year we have several options to apply to become a vendor.
"Become a Vendor Today" lets you complete your application and pay for it right now online.
"Mail in your Vendor App" gives you two options.
1) Fill out the online form and then receive a pretty completed form in your email that you can print and mail with a check.
2) Download a form and fill it out by hand the old fashioned way then mail in the form and payment.
Choose the application process that works the best for you!