Mark Your Calendars and Come
Something For Everyone
Each year is better than the last with great shows, entertainers, and bands that you'll just go NUTS about. The Civic Circle is transformed into an all day venue of music, fun, and games for the whole family. This year our headlining bands are 5 Guys Named Moe and Slow Ride. All the great support from our awesome sponsors makes this a free event for all who attend and also allows us to discount the concert ticket prices to $10. Tickets will be available for purchase at the event.
2nd Annual Squirrel Fest Karaoke Contest
Watch the best Karaoke singers in the area compete to be crowned the champ! Or qualify for a chance to BE the best Karaoke singer in Longview! Sponsored by your favorite local karaoke establishments: Yan's Chinese Restaurant, Panda Inn, Hung Far Low, Union Square, Kim Bowl Restaurant and Lexi's Pizza Pub.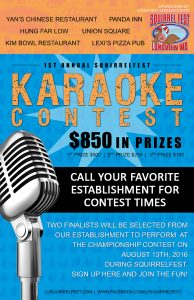 See the Bridges
The RelyLocal.com Trolley will be featured at Squirrelfest this year, providing guided 30-minute tours of the famous Longview Squirrel Bridges!
Tours will be held beginning at Noon, 2:00, 4:00 and 6:00 p.m. and pickup/dropoff will be in front of the Library.
The cost is $8.00 and tickets are available at KUKN 506 Cowlitz Way in West Kelso. (this event is expected to sell out so get your tickets right away. any available openings will be sold at Squirrel Fest.)
Come join the fun!

Food, Events and giant squirrels
Things to do for all ages
A wide range of vendors and entertainment will be present to make the day as fun and active, or relaxing as you would want it.
The kids will enjoy fun things like a tight rope, juggling, diablo, flower-sticks, pole balance, walking globe, stilts, Poi balls, unicycle, plate spin and much more!!! Everyone can satisfy their craving for pizza, hot dogs and cotton candy, clowns, tee-shirt cannons, demonstrations, arts and crafts, and even giant squirrels.
Through the eyes of a Squirrel
Camera on Squirrel Bridge
Attention Squirrel Lovers! If you have always wanted the opportunity to see our bridges through the eyes of a squirrel, now you can! With the help of the team at Cascade Networks, Inc. we have a camera installed on our Bruce Kamp Memorial Squirrel Bridge for you to sit and watch for a squirrel will cross. – This is a great opportunity to have a family gathering, bring your friends over for popcorn, or for date-night with the sweetie. Go Nuts!